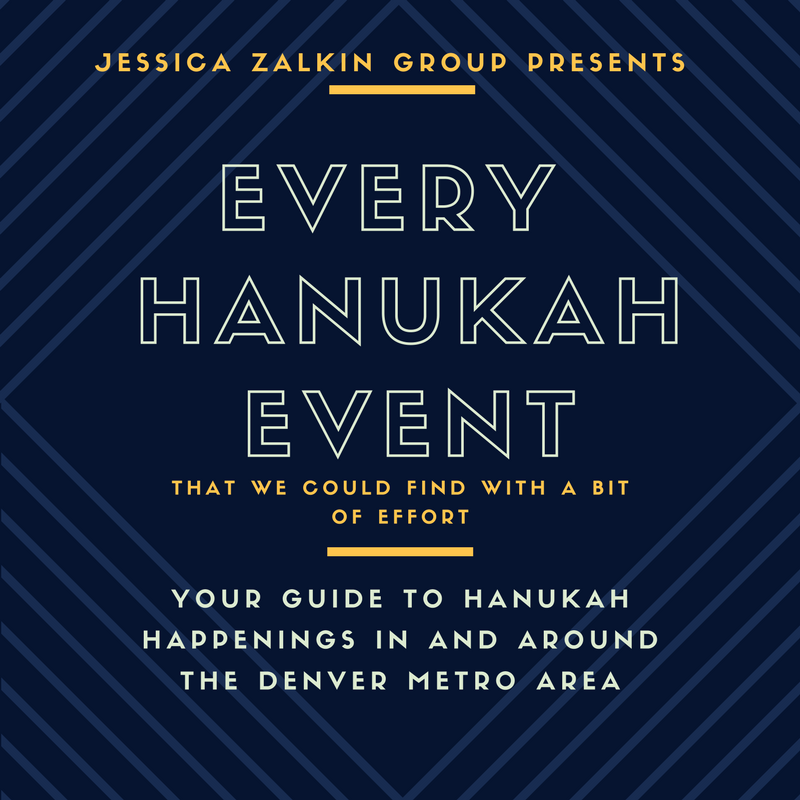 It is almost time! Have you had your first sufganya yet? Bought your apple sauce for your latkes? Watched every Maccabeats Hanukkah video?
We love Hanukkah over here! One of our favorite things about the holiday is all of the amazing events around town. But which to choose? And did I even hear about all of the events? I really wish there was a centralized list of EVERY HANUKKAH EVENT IN DENVER! You know what they say– Where there are no (wo)men, be a (wo)man! Be the change you want to see in the world! So, without further ado and in no particular order, JESSICA'S EXTENSIVE LIST OF EVERY* HANUKKAH HAPPENING IN DENVER**!
*We have researched, texted, emailed, and magically divined all of the events that we could– but if we missed one, PLEASE LET US KNOW!! We want to include everybody!
**We even included some not family-friendly events, so use your discretion when looking at events!
***All spellings of Chanukah are consistent with advertising for the event.
SUNDAY, DECEMBER 3
Make your own Emoji Menorah; Chabad of NW Metro Denver; 10am-12pm
Community "Light Up Your Chanukah" Celebration; JCC Denver; 9:00AM-11:00am
THURSDAY, DECEMBER 7
Pre-Chanukah Night of Inspiration for Women; Kishinevsky home; 7-9pm
SUNDAY, DECEMBER 10
The Home Depot Menorah Workshop; Park Meadows Home Depot; 2pm
TUESDAY, DECEMBER 12
Community Menorah Lighting; Staenberg-Loup JCC; 5pm
Chanukah Chocolate Factory; Chabad Jewish Life Center; 5:30-8
Chanukah on Ice; Lollipop Indoor Amusement Park; 5:30pm-7:30pm
WEDNESDAY, DECEMBER 13
Chanukah Story Hour; Barnes and Noble Glendale; 4:30-5:30
Illuminate 2017; HEA Denver; 5:00-7:30pm
Chanukah Fire on Ice; Skyline Park; 6:15-9
Light Up the Night: A Chanukah Celebration; Rodef Shalom; 5:30-7:30
Sixth Annual Dreidel Networking; The Jewish Experience Center; 5:30-7:30
Latkes & Lattes; 7-8:30pm; Kaladi Coffee Roasters
THURSDAY, DECEMBER 14
Chanukah Night at Children's Museum; Denver Children's Museum; 5pm-8pm
Colorado Hebrew Chorale 7th Annual Community Hanukkah Program: Festival of Lights; The Champa Studio; 6 pm
Jewish Heritage Night at the Avs; Pepsi Center; 7-10pm
Drinks, Broncos & Dreidels, a VIP Adult Chanukah Event; Twenty Brew Taphouse; 6:30pm-9:30pm
FRIDAY, DECEMBER 15
Hanukkah Hoopla; Temple Emanuel; 5:30pm
SATURDAY, DECEMBER 16
Chanukah Celebrations; B'nai Chaim; 10am-12pm
SUNDAY, DECEMBER 17
JOI's Ready Set Glow, Community Chanukah Celebration; Aish Denver, 9550 E. Bellview Ave.; 12:15-2:15
Flip Like A Latke; Jump City Westminster; 2pm-4pm
Light up the Night Car Parade & Menorah Lighting; 4:30pm
MONDAY, DECEMBER 18
Chanukah Celebration and Community Candle-Lighting; Jtown- Eastridge Rec Center; 6:00pm
TUESDAY, DECEMBER 19
KOTR@HEA: Julie Geller Hanukkah Concert; HEA; 1:00-2:00pm
Chanuka Mesiba Joint Community Partners in Torah; 5:45; Zera Abraham
PJ Christmas Carol & Hora Around the Menora; Little Man Ice Cream; 6-8pm
Celebrate Hanukkah with JOI Twenties & Thirties!; 6:30-8:30tje 613 conc
SATURDAY DECEMBER 23
The Annual Klezfest; Mercury Cafe; 7:30pm;
SUNDAY DECEMBER 24
Dreidel Dance!; 9pm-12am; Interstate Kitchen & Bar

Jewish Family Extravaganza; South Suburban Family Sports Center; 11:00-3:00
MONDAY DECEMBER 25
Six13 Concert; George Washington High School; 4pm; tickets through TJE